Post by Avy on Nov 25, 2014 14:37:40 GMT 11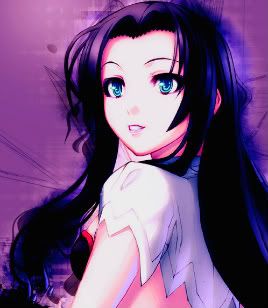 Name:
Alissa FreMons
Age:
16
Gender:
Female
Trainer Type:
Aspiring Ranger with a bit of Beauty on the side.
Hometown:
Ecruteak City
Appearance:
Alissa is an average height teen about 5'3". She has straight hair that reaches the middle of her back. Its color is a deep purple, almost looking black to most people. Her eyes are ice blue colored. Her skin can be compared to the color of the desert sand. She also has her family trademark, her hair has one obnoxious curl on top of her head that refuses to stay down.
Alissa's outfit is unique to only her. She wears a dress that zips apart at certain at certain areas. The dress is made out of multiple fabrics and each fabric is a diffrent shade of blue and black. However the colors are arranged to look good together. Its quite a remarkable piece of clothing. She wears leggings and a stylish pair of dress boots to compliment the dress as well.
Personality:
Despite the way she looks her personality is quite different from it. She is kind, in a way that she tends to care more for pokemon than people. She strives to make them her friends, but without catching them. She is also slightly clumsy, occasionally she will fall over something that is not actually there or accidentally runs into someone or something. This leads to her slight paranoia of thinking that no one likes her because she is clumsy. She will randomly burst into tears, until someone says otherwise.
Alissa also has a few pet peeves. One is people that treat there Pokemon with disrespect. Stealing them from trainers and purposefully letting them faint in battle. Another one is, well she can't stand to see anyone be bullied. Though she cares for Pokemon more than people, she will stand up to bad people. She is inclined to listening to Pokemon.
History:
Alissa comes from a long line of Priests and Priestess bidding her to become one herself. Her father Jin was a priest before her, but he had been known to serve in the Bellesprout tower in Violet City. That is where he made a name for himself and that is also where he grew up. His parents had also grown up there as well, but died there at a young age. Hence why they live somewhere else, their deaths hit him hard.
Her mother Xiao was somewhat different. She was a trainer, very calm and collected, not prone to making mistakes. She however collected all eight badges, but never moved to take on the Elite Four of Johto. That effectively ended her journey, but she happened fall in love with a priest. His name was Jin and he soon found out why she had decided not to move on. She was carrying a little bundle of joy. So they decided to move to Ecruteak City where her father could do his bidding unhindered and her mother could raise an infant in a safe place.
Alissa was born in Ecruteak, raised there too. She learned many things from the elders there. What moved her the most was her mother however. Telling her stories of the battles she fought and the dangers she faced. Sure her mother had a lot of pokemon, but.... Well she very well couldn't use them, though her mother practiced with her daily. It was nice, but 3now at age 16 she was ready to move on and start on her own journey.
On a side note, she was often found sitting among her mothers Pokemon. She could tell that they were well taken care of. However what she saw on the outside she really couldn't believe. People kicking them, even the strays. They were the Pokemon that turned bad, those that were abandoned and beaten. Alissa, she tried her best to prevent it. Some succeeded, but others didn't like it and it ended up the same way.
She then saw a commercial on the television, it was about Pokemon Rangers. Those that protect and serve the Pokemon. It moved her deeply and thus she began to research what it took to become one. This also led her to leave her home and to start her journey. "I am Alissa FreMons and I will strive to Protect Pokemon, Befriend them, and well anything that will help really..."
Goals:
Follow in her mothers footsteps, surpass her even.
To make her name known, to be remembered as a person who cared about her Pokemon. Not just another trainer striving to be the best.
To become a Pokemon Ranger.
Other Info:
She has a special little charm created by both her mother and father. They called it the "Hearth Home".
How did you find us?:
Top 100 site uhhh.... Let me look again...
www.top-site-list.com/pokemonrp
Application completed:
[YES]