Post by Morrigan on May 25, 2016 18:26:37 GMT 11
Operation Dig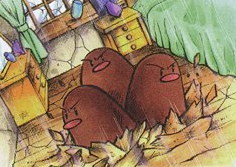 Requirements:
Be a recruit within Team Rocket.
If the Cherrygrove Quest Dig In has already been completed as a trainer, you can not take part again with the same character.
All participating Pokemon must be Level 28 or less.
Location:
Cherrygrove City Streets.
Background:
Cherrygrove City; a quaint town well known for it's flowery aroma and gentle sea breeze. Once leaving the dirt path of Route 29 behind them, this little city tends to be the resting point for most travellers who have left Newbark Town. Though there isn't much to see, besides a decently stocked PokeMart and generously sized sandy beach, Cherrygrove is still a nice pit stop for most, even if it is to simply have a bit of rest and relaxation. Atleast, that is what one particular couple was hoping for.
Having moved to Cherrygrove City all the way from Cerulean City, within the neighbouring Kanto Region, a hardworking man and his wife hoped this relocation would lift a worrying weight off of their shoulders. Well known in Kanto for the discovery of TM28 Dig, both he and his family became the victim of numerous burglaries due to the effectiveness of the move. Not only did it work well in battle but it also allowed trainers in places such as caves, to dig their way back out to safety. Thus, it's value attracted the attention of Team Rocket, who has plans to use and abuse the convenient TM.
Quest Walkthrough:
As a member of Team Rocket, your mission is to infiltrate the family home and seek out the crate containing stacks of TM28 Dig. It is solely left up to you on how you will approach the mission, there is no hand holding in this organisation. Will you go in all guns blazing during the middle of the day or stealth during the night? Either way, there are bound to be obstacles which will hinder your progress.
Once entering the home, you will be faced with the home owners. Known throughout Kanto for discovering the TM Dig, the man is enraged by your presence and will do everything in his power to stop you from completing your mission. Subdue him and his wife anyway you see fit but refrain from doing anything too messy. Team Rocket will need him in the future to create more TMs, after all.
With Mr. Dig and his wife out of the picture, it is now up to you to search their home for their famous stash of TMs. Explore the home in whatever way you see fit and track down the crate! However you choose to search, your actions will not go unnoticed. The family Pokemon, Dugtrio, has taken notice of your misdeeds and is determined to stop you in your tracks. Defeat it to continue your search!
Dugtrio♂: Lvl 20
Ability: Arena Trap
Tri Attack
Growl
Astonish
Dig

Once the Dugtrio is out of the way, continue your search for the crate and split! The noise you have created from the battle has likely attracted unwanted attention, so as soon as you have acquired the items, escape!... Or, that is what would happen in an easy world. As you flee with crate in hand, you are stopped by a blinding flash of light. A cop is on the scene, get rid of them in the name of Team Rocket!















Policeman Dean
Reward: £500
Growlithe♂: Lvl 12
Ability: Intimidate
Bite
Roar
Ember
Leer

Pikachu♀: Lvl 9
Ability: Static
Tail Whip
Thunder Shock
Growl
Play Nice
With the Officer's Pokemon down and whilst he is distracted calling for back up, it is your turn to make a run for it. Once your at a reasonable distance from Cherrygrove City, call for extraction and give yourself a good pat on the back. You have done a great deed for the ever growing Team Rocket!
---
Rewards:
-
TM28 Dig
- £1500
- 10 Rocket Prestige
(None if the family is physically harmed)