Post by Morrigan on Jun 14, 2016 18:23:58 GMT 11
Pier Pressure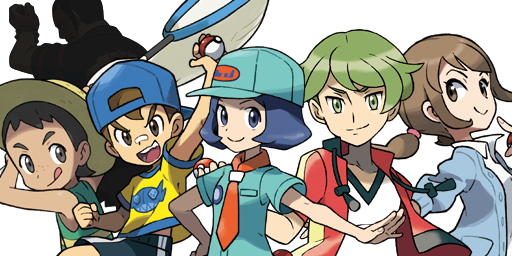 Requirements:


Own the Violet City Badge.
A team of six Pokemon is reccommended.
There is no automatic healing but you can heal between battles, so bring your own healing items.
Hard Mode is available for this Quest!

( Within your post, state that you would like to participate in Hard Mode and all levels will be tailored to roughly match the highest level Pokemon in your party. Beware! Some opponents listed below may become their evolved forms with improved moves or completely different Pokemon in Hard Mode. )
Location:

Route 32: Fishing Jetty
Background:
The usually calm streets of Violet City have become a gossip ground for a group of very angry Fisherman. Usually found on the Fishing Jetty that sits in the centre of Route 32, for some reason, they have been forced to leave their favourite fishing spots. Over hearing a conversation, you learn something that sounds very fishy. Apparently a group of five children have invaded the jetty, demanding only the strongest of trainers, with the Violet City Gym Badge, to challenge each and every one of them to a battle. Refusing to move on until they were each defeated, it meant that the local Fisherman had to find other spots until the issue was sorted. Curious, you to go investigate the local jetty and sure enough, scattered along the pier are several young trainers waiting to be challenged.
Are you brave enough to take on the Nugget Pier?
Quest Walkthrough:
Upon arriving at the Fishing Jetty with the Violet City Gym Badge in hand, you are welcomed by the first child who explains that if you manage to defeat all of the trainers, you will be awarded with an item known as a Nugget. In fact, they had taken it upon themselves to be called the Nugget Gang and add something along the lines of following in the footsteps of a group within the Kanto Region. Either way, it sounds simple enough. Defeat all of the trainers to get a prize at the end. Easy!
Bug Catcher Blake

Ledyba♀: Lvl 12
Ability: Swarm
Tackle
Supersonic
Comet Punch
Bide

Youngster Ross

Aipom♂: Lvl 13
Ability: Run Away
Scratch
Tail Whip
Sand Attack
Astonish
Picnicker Estee

Skiploom♀: Lvl 14
Ability: Chlorophyll
Synthesis
Tackle
Fairy Wind
Stun Spore
Ace Trainer Doug

Marill♂: Lvl 15
Ability: Thick Fat
Tail Whip
Defense Curl
Rollout
Bubblebeam
Lass Summer

Furret♂: Lvl 16
Ability: Keen Eye
Scratch
Defense Curl
Quick Attack
Fury Swipes
Once all of the trainers have been defeated, a final figure at the end of the pier will congratulate you with a Nugget! But before you go, it seems that your skill as a trainer has attracted their attention. Revealing themselves to be the ring leader of this group, as well as a disguised Team Rocket member, they extend their hand to you and offer the chance to join their criminal organisation. Regardless of your response, they too want to face you in a battle, in order to test your strength first hand.
Team Rocket Grunt


Zubat♀: Lvl 12
Ability: Inner Focus
Absorb
Astonish
Supersonic
Bite
Ekans♂: Lvl 14
Ability: Intimidate
Leer
Poison Sting
Bite
Glare
Once he has been defeated, the Team Rocket Grunt will clear off and the children will apologise, unaware that their leader was in fact a bad guy! Agreeing to leave the Fishing Jetty, it becomes free once more for public use!
---
Rewards:
- x1 Nugget

- £250 for each trainer defeated
Quest Complete!