Post by 「JoJo」 on Nov 10, 2016 3:42:59 GMT 11
Side Quest Rules:
While on a side quest, your Pokémon will not be healed automatically so any damage or non-volatile status ailments (Freeze, Burn, Paralysis, Poison, Sleep) will be carried into the next battle (if more than one are involved). Hence, the only way to heal your Pokemon is through the use of items until you've completed the side quest.
You may pull out of the quest only in between battles but must start from the beginning again if you wish to try again. Items that you received the first time prior to pulling out will not be available the second time round. You cannot complete the quest multiple times unless there is a written exception.
Note, that you cannot already have a main thread open before starting a side quest so finish your current thread and start a new thread in this sub-board to begin.
---
Seeing Red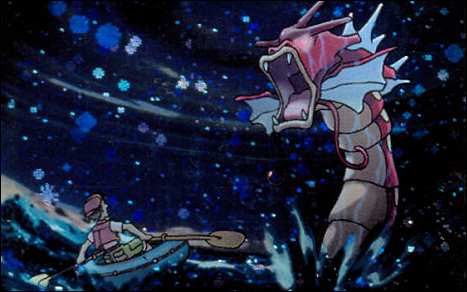 Requirements:
Must have a Pokemon with HM03 Surf in Party
Location:
Lake of Rage
Description:
Many years ago the area endured a violent group of Gyarados savaging the land, it is said the lake itself was a result of their rampage. Nevertheless, these days are a far more tranquil affair... Or so it would seem. Deciding to enjoy a scenic boat tour of the area, you meet with the local tourist boat hire. A friendly man known as Skip and his Golduck offers you a free ride as a welcome to the area.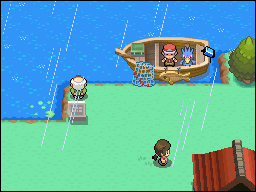 Deciding to take him up on his offer, you and your Pokemon board his vessel as you set off to tour around the lake. Not long after setting sail, the relaxation is thrown into turmoil as the waters begin to rage.
Should you wish to partake in this quest, please leave add the suffix of (Seeing Red) to your title.
Walkthrough:
Cruising around the lake, everything seems peaceful. With the Skip's radio playing some chilled music in the background, it seems as if this is the perfect unwind from Pokemon training. Explaining something about the scenery, Skip is interrupted by a horrific screech coming from the radio. Hurrying to turn it off, it seemed as if the airwaves had been taken over by some weird frequency. Before the peace and quiet is resumed, Skip notices a change in the waters, almost as if they're becoming enraged.
Violently throwing up three flailing Magikarp, they need to be taken care of lest they upset the boat.
Triple Battle

Magikarp♀: Lvl 32
Ability: Rattled
Splash
Tackle
Flail
Bounce
Magikarp: Lvl 29
Ability: Swift Swim
Splash
Tackle
Flail
Bounce
Magikarp♂: Lvl 32
Ability: Rattled
Splash
Tackle
Flail
Bounce
(PLEASE NOTE: These Pokemon are not obtainable as they are violently rampaging).

Just as the crazed Magikarp are thrown overboard, the lake becomes ever choppier. As if responding to the defeat of the Magikarp, not one but two Gyarados erupt from the depths and rear their ferocious gaze. Unnerved at there being Gyarados, Skip heeds you to calm their rage.
Double Battle

Gyarados♀: Lvl 33
Ability: Moxie
Twister
Tackle
Bite
Dragon Rage
Gyarados♂: Lvl 33
Ability: Moxie
Twister
Tackle
Bite
Dragon Rage
(PLEASE NOTE: These Pokemon are not obtainable as they are violently rampaging).

Despite the Gyarados being defeated, the waters rage more than ever. At that very moment, a rogue wave sends a suspicious black boat colliding in with Skip's own. Coming out of the cabin, two Rocket Grunts and a Rocket Scientist appear. Team Rocket is up to something.
Triple Battle

Rocket Trio
£840
Raticate♂: Lvl 34
Ability: Guts
Super Fang
Hyper Fang
Scary Face
Pursuit

Magneton: Lvl 35
Ability: Analytic
Mirror Shot
Spark
Tri Attack
Metal Sound

Golbat♀: Lvl 34
Ability: Inner Focus
Poison Fang
Air Cutter
Confuse Ray
Mean Look

As they make a quick escape, there is mention of the experiment being a success. What they're referring to remains uncertain but before further thought can be given, a final challenge emerges from below. Rising from the depths with a fearsome emergence from the waves, the sheer force breaks Skip's boat asunder. Clutching onto his Golduck, they make a beeline for the shore. Grasping onto your own Pokemon, it is up to you to quell the Red Gyarados.
Red Gyarados: Lvl 30
Ability: Intimidate
Thrash
Bite
Dragon Rage
Twister
(PLEASE NOTE: Red Gyarados is obtainable. However should you faint the Pokemon, that is your only chance to catch it).

Returning to the shore upon taking care of the Red Gyarados, it appears a mysterious observer was watching your efforts. Hearing of Team Rocket's presence, it seems to confirm some suspicions the individual has, believing something afoot in Mahogany Town. Thanking you for your bravery and commenting on your strength, the mystery trainer releases a Dragonite and flies off into the sky.
Rewards:

A mysterious stranger tips you off to something not being quite right in Mahogany Town...
Explore the area and search for clues! A new quest opens... Somewhere!