Post by 「JoJo」 on Dec 13, 2016 7:53:16 GMT 11
Side Quest Rules:
While on a side quest, your Pokémon will not be healed automatically so any damage or non-volatile status ailments (Freeze, Burn, Paralysis, Poison, Sleep) will be carried into the next battle (if more than one are involved). Hence, the only way to heal your Pokemon is through the use of items until you've completed the side quest.
You may pull out of the quest only in between battles but must start from the beginning again if you wish to try again. Items that you received the first time prior to pulling out will not be available the second time round. You cannot complete the quest multiple times unless there is a written exception.
Note, that you cannot already have a main thread open before starting a side quest so finish your current thread and start a new thread in this sub-board to begin.
---
Honing The Sword Quest

Requirements:
Must have a Pokémon with HM01 Cut in Party
Location:
Ecruteak City
Description:
Ecruteak is a city full of traditions and bonds to the past. Venturing through the hallowed city, you come across a blacksmith forging away at his furnace. Grabbing his attention he calls out to you and wonders if you would like to do him a favour. He's looking to construct a legendary sword in order to pay respect to a samurai that supposedly haunts at a nearby location.
Should you wish to partake in this quest, please add the suffix of (Blacksmith) to your title.
Walkthrough:
In order to forge the legendary sword that the blacksmith speaks of, he advises you of three core materials that he requires. These being:
A hunk of metal

A thread of silk

A log of wood

You're given the choice of procuring these in any order and he will direct you to the relevant locations to acquire these. However, be warned: These materials may very well be guarded so be sure to be on guard with your Pokémon.
Upon completion of acquiring the materials, the blacksmith forges away and creates the sword.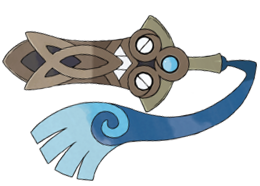 He then asks you to travel to a nearby shrine which supposedly is where the ghostly samurai is found and pay homage.
Offering the sword up to the altar, it appears your quest isn't quite over yet... A mysterious figure appears out of nowhere and demands a Pokémon battle!
Upon battle completion and a number of twists, you are then left with a very much deserved reward.
Rewards:
Honedge: Lv 20
Abiltiy: No Guard
Swords Dance
Fury Cutter
Shadow Sneak
Pursuit

Staff Guide Link
.