Post by Lusamine on Nov 12, 2017 10:14:34 GMT 11
Name
: Lusamine
Age
: 41+
Gender
: Female
Trainer Type
: Aether President
Hometown
: Aether Paradise
Appearance
: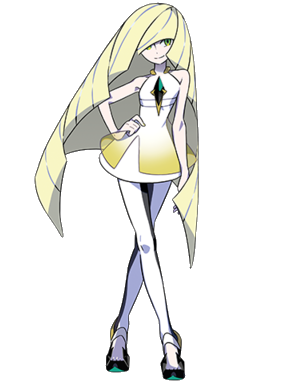 Standing at a tall 5'8" (173 cm), Lusamine seems to have defied the calls of time. Long, blonde hair expertly styled as it's well past her hips in length, the cut framing her smooth face and bright, green eyes. Despite her age, there's nary a blemish on her, either never gained, or treated away. Pale skin is one of her main features, suggesting that she either doesn't get out much, or burns like a vampire in natural light. Or perhaps some other method is used to maintain her youthful appearance.
Since arriving, she has opted to stick to her usual Aether outfit of white dress with yellow accents and tones. High collared and sleeveless, the design seems to exist to draw attention to the crystal design on her upper chest. White hose with black inner lining adorns her legs, ending just at her ankles to make room for her heels, which don't seem to slow her down in the slightest. As for where she stores her items, it's debatable. There are rumors of her having a concealed bag somewhere on her body. Others say she's secretly followed by a team that provides for her when nobody is looking. Yet others state that she's abusing Ultra Space in order to better store items. When asked, the answer remains to be 'a woman's secret'.
Personality
:
While appearing kind on first interaction, Lusamine can actually be quite overbearing. She has a love for Pokemon that is more akin to an obsession than genuine affection. She wants to show all Pokemon her love and care, which leads her to actually be quite reckless when faced with bad situations, as she does want to try and talk things out with her aggressors. The same could formerly be said of her relationship with her children, and others. Overbearing and misunderstanding to a fault, she now expresses deep sorrow for the way she once treated them, and is striving to improve, though old habits die hard. As such, she may come across as standoff-ish in her attempts to not be forceful, swinging to the exact opposite extreme of her usual self.
Lusamine absolutely adores cute things, favoring lighter colors and pastels, which is reflected in the uniform of choice of her foundation. This extends to her children, the mix of her controlling nature and self-focused thoughts leading to her treat them more like dolls than actual people. And yet, she's more quick to express delight in their mere presence now, able to be more accepting of things outside of her formerly 'acceptable' domain. She's become able to be proud of the accomplishments of others, and able to see past whatever is immediately presented to her. Overall, like her physical appearance, Lusamine is more akin to a woman in her early 20s instead of her actual age.
History
:
As a girl, Lusamine was very similar to the standard Pokemon trainer. Filled with hopes and dreams of building a better world for both humanity and Pokemon alike. To aid this, her father helped establish that Pokemon are to be loved and cherished, and kept safe from those that want to use and abuse them. This ideal shone through greatly when she met her future husband, Professor Mohn, while in college. The two shared the ideals, even going so far as to launch a children's television show dedicated to sharing their love of Pokemon. To her great joy, Mohn would propose, and the two would marry soon after. Further adding to her blessings, they have two children, Gladion and Lillie.
Unfortunately, her perfect life would not last forever. Just before Gladion's 10th birthday, and upcoming PokeTrainer quest, her dearest husband would vanish while on a mission to connect to an Ultra Wormhole. Stricken with grief, Lusamine immediately turned her attention to her work, thinking as though there was some sort of way to retrieve her lost husband with even going as far as to found the Aether Foundation. The shift in her attentions, yet her insistence on not letting her children go, would eventually drive a massive rift between Lusamine and Gladion, causing the boy to leave as well. This only caused her to cling onto her last bit of family even harder, possessively keeping Lillie locked away from the world like some sort of rare doll. Eventually, this would lead to Lillie running away as well, leaving the woman alone. And her only coping mechanism seemed to be projecting all her displaced emotions onto Pokemon as well.
Following the events of Pokemon Sun/Moon, Lusamine has been trying to fix her relationship with her children. Still carrying traces of poison from Nihilego, she was set about her way to see Bill, who could likely offer insight into the event. The travel to Kanto seems to have calmed her slightly, though she does get anxious at the distance between herself and her children. At Bill's recommendation, Lusamine makes her way to Johto, and another Professor by the name of Elm. Not just to speak to another Professor, but to experience a Pokemon journey of her own. To make the journey ever-so-slightly easier, the Aether Foundation manages to work out a deal with a young trainer by the name of Karin over a certain plot of land.
Goals
:
Her sole goal is to learn to become a better person and parent, through experiencing the trainer life. She does still love Pokemon greatly, and will vehemently oppose Team Rocket.
Other Info
:
Husband?: Mohn - PokeProfessor gone missing following an Ultra Wormhole event. Whereabouts unknown.
Son: Gladion - 15 years old edgelord who she insists is just going through a phase.
Daughter: Lillie - 11 years old. The bond between a mother and daughter is the strongest thing in the world. She is eternally grateful for being given a second chance.
Friend/Rival: Guzma - He's kind of adorable, in the same way that a raccoon going through your trash is cute.
How did you find us?
: Alt
Application completed
: [YES]