Post by Andrew on Nov 13, 2018 10:13:16 GMT 11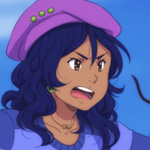 Beginning Operation Slowpoke.

If you see me comin' down the street...
... You know it's time to go.
The time had finally come. Having hurried through the town, Terri found herself at the entrance to the remarkable Slowpoke Well. She wasn't sure if her lack of knowledge on the mission was exciting or just plain frustrating. The information she'd been provided with had been very vague. She assumed this was due to her current rank. In the defence of Team Rocket, it was a wise move not to trust the new recruits with top secret information. Not everyone was cut out for the job, and there were bound to be a few spies in the works.

"Took you long enough," a husky voice called out. A familiar figure emerged from behind the well. The very same grunt who had approached her before her gym battle sauntered over, cackling to himself. Terri bit her tongue, reminding herself of her status within the organisation. Someday soon she'd be able to challenge this halfwit, but for now, she couldn't risk getting kicked out. Besides, this man was her only source of knowledge with regards to the operation at hand.

"We're a little quiet today, are we?" the young man teased, coming across as rather unprofessional.
"Just gimme the information so I can get to work," Terri replied bluntly, though careful with her tone. "I beat the Azalea Gym Leader and my Pokémon can Cut. What's next?"
The grunt took a more serious tone, having realised that the young woman was in no mood to poke fun and or partake in his games.
"Alright then. The mission is to find a Slowpoke, cut off its tail and bring it back to base. Think you can do that?"
"Obviously, I can do that," Terri rolled her eyes. "I'll be back soon."

The mission was a simple one which left her slightly disappointed. She'd built it up far too much in her head. As she climbed down the ladder and into the well, she recalled her trial run where she'd robbed the Violet City Pokémon Center. In comparison to that, this mission seemed like a piece of cake. However, this time she seemed to be flying solo which meant she'd be able to take all the credit for succeeding. This was the beginning of something big and she was determined to make her mark.