Post by Sarai Smythe on Sept 16, 2010 7:49:31 GMT 11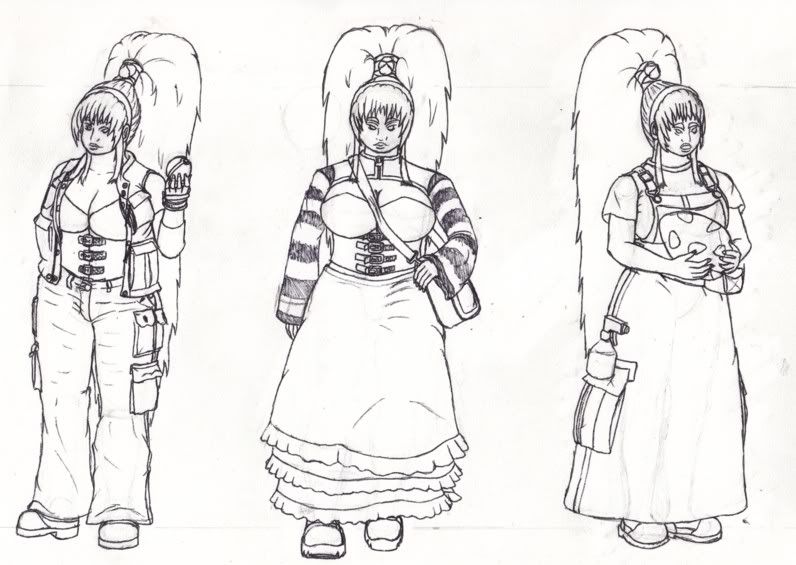 Name:
Sarai Thalia Smythe
Gender:
Female
Age:
19
Height:
4'11" // 150 cm
Weight/Mass:
135 lbs // 61 kg
Hair:
Deep Indigo
Eyes:
Blue-gray
Skin:
Color 9F7C56Build:
Stocky/Curvy
Distinguishing Traits:
Hair color, hair volume, height, build, thick eyebrows, array of very small laceration scars on the back of the head, set of razor scars on the inner side of either thigh.
Physical/Physiological Quirks:
Able to hear higher frequencies than most humans (can hear if a CRT screen is on or off, for instance), dull sense of pain, stronger than her size (but still well within human range), generates a lot of body heat and therefore suffers in warm weather as though it were hot, but can withstand colder weather than most people.
Appearance:
If Sarai weren't so short, she'd definitely stand out in a crowd. Heck, she stands out anyways, compared to most new trainers, who tend to be in their much earlier teens. Just barely reaching a height of four foot ten, the young woman is rather stocky and curvy, though she usually refers to herself as 'plush'. Her skin tone is a dark color that is more common on tropical islands, but her eyes stand out sharply with their blue-gray coloration. Her hair, which she keeps in a high, thick ponytail that still manages to reach past her knees, is a rich indigo color that is -probably- dyed, but in a world like this, who can say for sure? A stiff forest-green headband separates her bangs (which hang slightly over her eyes) and the two 'tails' of hair that drape in front of her ears from the main mass of her hair. Her face is broad and rounded with a broad-for-its-size small nose and almond-shaped eyes. Her eyebrows are rather thick towards their inner corners (Occasionally someone has said she has 'guy eyebrows'. This usually results in a punching.).
Her outfit is rather 'gothy', though her skintone is unmistakably not, as is her lack of makeup. Her attitude and the way she moves are clearly not 'gothic' at all, her motions being better described as those of a dancer than those of a reclusive teen or a slouching cynic. In fact, she almost always seems to be off-balance- and yet, she never quite falls over, even when deliberately tripped. It would be eerie, but she also has a tendency to accidentally knock things over and run into them.
At any rate, sometimes she wears a lot of cargo pockets. Black cargo pants and a black corset-bustier darken her appearance plenty, and the white cargo vest really doesn't do anything but complete the look- especially when one takes into account the forest-green silk bands she wears around her elbows (from bicep to mid-forearm) and the fighting gloves she wears, which are both pad-backed and almost the same color as her hair.
Other times, she wears a much more feminine outfit- though she still wears a corset-bustier (this one in an even deeper indigo than her hair), she also wears a long black ankle-length skirt with faint ruffling. Don't let the shape of the skirt fool you, though- it's made out of a durable and waterproof cloth that is surprisingly smooth to the touch. With this, she wears a long-sleeved shrug, the portions over her shoulders and collarbone black and the conical sleeves striped in alternating black and white. Of course, this outfit has far fewer pockets than the previous, and so she makes up for it by carrying a large satchel whose cross-strap rests on her right shoulder while it hangs below her left arm.
Likes:
Most foods, pokemon, nature, music, drawing, hiking, learning, handicraft, cold weather, fog.
Dislikes:
Insincerity, abusive people, obliqueness, large vehicles, alcohol, olives as an individual food item, wasting food, power-hunger, dry air, heat, most of her family, emotional pain (causing or recieving).
Positive Personality Traits:
Unshakeable, kind, unable to maintain hatred, pragmatic, problem-solving, highly intelligent, quick-thinking, friendly, energetic, loyal, good at explaining things.
Negative Personality Traits:
Erratic, extremely intense, easily shifted mood, inobservant, incapable of subtlety, loud when 'up', cold when 'down', reflexively reclusive, inordinately stubborn, scatterbrained, often appears to be 'talking down' to people when not intending to, has no sense of what other people consider funny.
Known Quirks:
Typically expects families to be highly dysfunctional, appears by turns to have infinite or no self-confidence at all, refuses to use pokeballs except for initial capture and as emergency medical transport, dislikes potions and similar items but not antidotes and similar items, may switch into and out of 'dramatic mode' without warning, enjoys absurdist humor, does not understand religion or religious practices, tends to ignore laws and justice in favor of doing what is 'good', apparently incapable of regret while frequently remorseful (bears further explaining).
Sexuality:
Neuter/Bi (In her words: It's complicated. Have you got half an hour?)
Overall Personality:
Sarai is, in a word, alien. Many people are unsettled by her personality, on account of her extreme intensity. You can easily trust that whatever she's feeling right now, she shows clear as day- and as intense as the sun itself. Despite how demonstrative and loud she seems, her actions themselves are usually pretty mellow, understated even. She doesn't like loud places, she tries very hard to avoid offending (though she often puts her foot in her mouth), and would much rather have a conversation or maybe a calm argument than a shouting match. Unfortunately, she's very, very direct- which has caused her a lot of problems in the past.
While she tries to resolve problems with talking, and tries to keep herself centered and relaxed, the simple truth is that she's not terribly good at either one. Calling her a dwarf is a good way to get her to try to hurt you, the same for ridiculing her eyebrows, her dress, or the positively insane depth of her knowledge of a: the english language and b: the technical aspects of battling. She won't abide being made fun of, nor anyone who makes fun of others and, unfortunately, the more upset she gets, the louder and more intense she gets and the less she actually thinks.
She is, however, an inherently kind person. While riling her up is usually a very, very short process, she calms down quickly and completely fails to understand why anyone would bother holding a grudge. Given a choice between helping someone and not, her reflex is to help. This becomes especially evident when she perceives herself to be responsible for harming someone else. She immediately becomes nothing but apologetic and can even become depressed if not allowed an opportunity to make up for the damage done in whatever way she thinks she can.
Her biggest fear is her ability to harm others emotionally.
At the same time, she has very little regard for her own health or safety in most senses. This may be on account of her dull sense of pain, or perhaps she doesn't value herself as much as she values other people. Despite that, she doesn't seem to focus on that aspect of her personality much, preferring to get people to have fun and enjoy themselves.
Perhaps amusingly, her ability to be both incredibly insane and completely sensible at the same time has left her protected from the very things her social ineptness -ought- to cause her problems with. She's essentially immune to politics and political maneuvering, though incapable of it herself, and cons rarely if ever work on her- she has too much common sense (which when you think about it is disturbingly uncommon) to fall prey to such traps. Of course, this also means that she's essentially unwilling to gamble, so maybe it's just a sense of extreme caution?
Place of Birth:
Upper Opelucid City
Known Family:
Father:
Jamus John Smythe
Mother:
Maria Coraline Smythe
Sister (half, via mother):
Elizabeth Rose Berastia
Brother (half, via mother):
Stephen Esker Stanley
Sister in Law (brother's wife):
Maureen Gwendolynne Crannagh
Place of Residence:
Nowhere/Pontoon Isle
History:
Sarai was born into a relatively well-off family- not outright rich, but with both parents working and earning good money, the family as a whole didn't lack for anything monetarily. This probably would have been much more enjoyable for her if she'd had the kind of personality that placed that as important, but as it turns out, that simply didn't happen. This can probably be partly attributed to how her parents are- her father long ago decided to look down on everyone around him, and is incapable of giving a compliment that isn't backhanded (and even those compliments are rare at best). Plus, his best idea of a good time is riling other people up. Sarai's mother is much less abrasive, but being a small woman herself and of a much more classically feminine nature, always has trouble persuading people to listen to her when it really counts and is unwilling to push anyone too hard. Sarai's elder brother is a solid nine years older than her, and her sister another three years older than that, so she not only was a youngest and only child depending on the parent, but had no real experience in her home dealing with people her own age.
Being not only very direct but very physical by her basic nature, the short girl was a huge tomboy in all but the literal sense, and in fact was always so intense emotionally and developed intellectually that even the boys didn't want much of anything to do with her (although she was great to have on your team in a game of dodgeball). Although she wasn't aware of it at the time, she always came across as thinking she was superior to her peers, due to her use of long and complex words- and long and complex concepts. Because of this, she spent much of her play time alone, either running about on her own or reading books far beyond her grade level.
At the age of six, an important bit of her life changed- during her school's rehearsal of 'The Poke-pirates of Manzanilla', a brief accident that nobody seems to have all the details of resulted in her falling backwards out a low window. While she was mostly unharmed by the fall, the glass from the window shattered into a very large number of small shards that cut up the back of her head quite badly when she landed on them. This marked a few things- first off, her temper (never terribly even to begin with) became a good deal shorter. Secondly, she began growing her hair out long- at first to hide the scars, but then because she grew to like caring for it, finding a calm there to counter the vitriol of her increased temper. Finally, she became intensely cautious, losing a lot of her adventurous spirit. Although she claims both not to remember what caused the fall nor to have felt terribly much pain from the injury or during her time in the hospital, the impact of the accident was unmistakeable- and her social standing further crippled.
Regularly teased by other children both for the things she could not understand (which they could- largely social things) and for the things that she could understand (which they couldn't- mostly studies and intellectual pursuits), her temprament, behavior, and grades all slipped rapidly into a morass of failure within a year or so of the accident, and her social activities essentially cut off. Her father's nature, unfortunately, did not help this any, as his response to her academic failures was to try and goad her into improving by deriding her- which only served to make her an angrier child than she already had been. For several years, her mother struggled with her teachers both on behavioral issues and academic- as she was passed through grade after grade for knowing the material without actually doing the work, her work ethic began slipping and her reliability became erratic at best- which only worsened the other issues. This was worsened by her apparent lack of a haven- her father was attempting to pass the qualifying exams to become a Gym Leader, and was often home when she got suspended for fighting children who'd been making fun of her.
Strangely, she never seemed to pass through a rebellious phase, constantly trying with worse and worse results as her confidence slipped farther and farther- trying to please the adults around her. Unable to understand what they wanted, but able to understand what they said they wanted, she only stressed herself further and further.
Her first- and last- suicide attempt was at the age of twelve, the unfathomably confused girl attempting to kill herself by cutting the veins on her inner thighs while in the bath- not because it would cause a faster bleed or prevent clotting (she hadn't thought of either), but because that way she could numb herself with cold water and not leave a mess all over the place.
One ambulance trip and hospital stay later, Sarai was home again- and rapidly becoming just as unhappy as before. Her situation, the psychiatric staff had concluded, was not one of an abused child. There was no legal standpoint for them to do anything for or about the bizarre young girl, who was only hoping to finally figure out what it was she was doing wrong that nobody would explain to her. Despairing of ever understanding other people as a whole, Sarai began spending more and more time after school hanging around the Upper Opelucid pokemon center, watching the trainers with their pokemon, and the pokemon being treated.
Three months after her thirteenth birthday, she left home as a registered trainer, ostensibly to head to Nuvema town and gain a new pokemon from Professor Juniper.
That day, not only did she disappear in an unknown direction, so did a wailmer that had been staying at the pokemon center after being separated from an abusive trainer.
Not quite a year after that, Sarai turned up again for the first time in anything remotely resembling legal documentation, accompanied by a wailmer apparently named Orphus. Refusing all challenges to battle, she headed straight for the pokemon center of Lilycove and requested permission to work there in exchange for enough money to buy clothing and food, and a bed to sleep in. Although 'requested' may be the wrong term- after so long in reclusion, her already poor social skills had declined to non-existant, and she essentially demanded the position.
After a bit of legal confusion, she managed to get things settled enough to work as a temporary aide to the nurses there. According to the head nurse of the center, Sarai was 'kind, but intense', and often suffered 'extreme mood swings'- usually towards irritation and anger when things became overly busy in the center during storms or local events. Still, she showed some improvement with time, spending her off-work time playing on the beach with Orphus- although she never seemed to put on a bathing suit, sticking to long skirts and loose pants.
Over the next two years, she traveled around Hoenn, refusing all challenges from other trainers and working in pokemon centers in most of the smaller towns that still qualified to have actual centers. Towards the end of that time, she was finally stabilizing emotionally, though the head nurse of the Petalburg pokemon center noted that she seemed to have 'no confidence in herself as a person. She doesn't trust herself, and doesn't seem to value her own safety properly. She would probably walk through a Fire Blast to get someone a drink they asked for. Her sense of importance may be warped completely out of scale- or she may think in a way I don't even understand'.
Eventually, Sarai moved on, and after a brief gap in known location, turned up again in Sinnou, starting a 'tour' of work in Canalave, where her two out-of-work activities seemed to be mining the library for every bit of information, myth, or thought on pokemon, and spending time with a wailmer that she referred to as 'Fauntleroy'. Again, the indigo-haired girl and her companion showed up all over the region by turns, never battling another trainer and never seeking to collect any badges or recognition. Anytime a pokemon came in to a center, though, if it was a pokemon she hadn't seen before or its injury was unusual in some way, there she would be.
Her final workplace in Sinnou was Solaceon Town, where instead of assisting in the Pokemon Center, she helped at the Daycare Center, particularly with very young pokemon. Her temper far more evened out than before (still thoroughly erratic, but apparently virtually impossible to anger), she seemed to be a natural with the young creatures, who invariably loved to hear her stories and play silly games of nothing-at-all with her (though she always referred to these games as Calvinball for some reason).
Finally, a few days after her nineteenth birthday, she vanished off the map again, turning up half a year later in New Bark Town, alone and unescorted. Unwilling to explain how she'd gotten there while apparently unaccompanied by pokemon, she insisted that Professor Elm should grant her a 'starter' pokemon, as she had never actually recieved one to begin with.
Despite the massive holes in her past and her paper trail, this was still true, and she still held the right to begin such a journey as a pokemon trainer. With the authorities essentially shrugging at the bizarre circumstances, she waltzed through the necessary bit of paperwork with a smile and a nod, recieving a bulbasaur which she named Fern and setting out on a journey.
As to what happened during the times she 'fell off the map'- well, that shall be seen later.
How did you find us?
Logged into DevArt, spotted a set of custom trainer sprites by the DevArt user Oniwanbashu, which had a link in the description. Thought I'd give it a go.
---
Beeeeeeeeee~ginning
- Complete (New Bark Town)
Hot day- wait in the shade!
- Current (RP, Cherrygrove, Artmage)
Come rain or shine, I wander on
- Current (Cherrygrove)
All in Good Fun
- Current (RP, Unova Festival, Kataya)
Incidental Spelunking
- Complete (Marchbaby's Estate)