Post by revolvingscott on Sept 27, 2010 6:26:54 GMT 11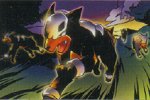 The air was hot and heavy as School Boy Jimmy merrily made his way through Route 29. A Pidgey chirped in the tree above him then suddenly stopped. That was odd. That Pidgey normally chirped all day every day; Jimmy should know, he had been in this part of the forest every day for the past two months and it was beginning to have an effect on the forest floor. He could see his own footprints running through the muddy ground for the length of the makeshift path he had forged for himself along the way to his favourite spot: a clearing set deep in the heart of the wooded route.

"Just a minute, you guys, then we can play and have fun," Jimmy said, patting his school bag. From the bag, the sound of clinking Poké Balls emanating from it helped to break the almost eerie silence. A Rattata squeaked just ahead and scurried away from the bush of berries that it had been eating from. That was odd, too. Jimmy decided to think nothing of it and proceeded back to the clearing he had been spending every afternoon of the Summer. The other children didn't understand; there was no better experience than sitting in a beautiful place with a book and your pokémon.

A wide parting in the trees signified that Jimmy was nearing his destination. He hurried up, excitement coursing through him; he was almost there! It was then that he was confronted by a large, hollow bush. Breaking through the bush, he stepped out into a perfectly circular clearing; his eyes squinted as he was suddenly dazzled by the light reflected from the pool that lined the other edge of the clearing. In the centre, dancing in the light of the pool, a large boulder sat still with a naturally occurring groove that made it perfect for sitting on. Jimmy made for the boulder with a jump and a skip. He perched himself atop the rock and reached into his grey school bag and drew out three Poké Balls that exploded into three beams of red light.

"Hey, guys, it's great to see you!"he said, looking down at his three pokémon: Chingling, Budew and Azurill. "Go off and enjoy yourselves, I'll be reading," he added. The three pokémon obeyed and sprang off to enjoy themselves at the pool while Jimmy reached into his bag again, extracting a large, hardback book: 'The Lost Suicune Secrets – A Guide to Johto Mythology' and turned to Chapter 3: 'How to Spot a Wild Entei When You See One'. He was soon immersed in the book and lost track of time.

Then a snarl came from right behind him.

Jimmy jumped up and turned to see a Houndour three inches away from where Jimmy's head used to be with two Houndour close behind it. They snarled again and jumped towards Jimmy and slowly began to circle him. Jimmy was terrified to shout out for help but he knew that it was the only way that someone would save him. He shouted for help but his cry went unheard; he shouted again and this time something replied: one of the Houndour shot flames one foot above his head. This kept him quiet. Unbeknownst to Jimmy, someone did hear his pleas for help: you.


---
Jimmy's in peril and only you can save him! Gather up your pokémon and get on over to fight off this dastardly Houndour pack.
This quest is designed to kick-start Arzadon's Happiness system. An overview of it can be found
here.
To battle the Houndour, you may use one of Jimmy's pokémon to help you if necessary; it will be at level 10. The Houndour will also be Level 10. With three Houndour there, it's advisable that you enter the battle with at least two pokémon in your party.
NOTE: This WILL take the form of a Triple Battle.
If you save him, Jimmy will reward you with whatever he can give you at such short notice for saving his life.
Once you win the battle, you will also be able to gain Happiness on all of your pokémon. They will receive the Happiness they gained in this battle, too. If you lose the battle, your pokémon will have gained no happiness and you will have to restart the battle all over again.
Finally, there is an extension to the quest available: the trainer may pursue the fleeing Houndour with a whole new adventure waiting for them. Though, this is optional and what exactly will happen will be a secret until you actually begin it.