Post by Professor Oak on Sept 1, 2009 16:37:45 GMT 11
The Orchard
Berry/Apricorn/Honey Trees are all managed by you, the owner. Make sure you are posting logs of when you plant things, water them, and harvest them so there is a time stamped history to prove when things happened. A mod will need to be contacted to update your inventory.
Berries
You will start with a number of empty berry plots based on the number of badges the Estate Owning character has obtained. You may purchase more, or get more as the character progresses through the site for free! Once you plant a berry in a plot, it will go through 5 stages of growth; the time changing depending on the type of berry grown. You can view our
Berry Growing Guide
for more info.
Once fully grown, the tree will not die or disappear so you can harvest at any time after stage 5 is reached. You can have a maximum of 20 plots.
Mulches can also be added to your plots and can be bought in Goldenrod's
Flower Shop
.
Apricorns
For every 3 berry plots you may plant 1 Apricorn tree; with a bonus tree allotted to those with 8 Johto Badges. The kind of apricorn is decided upon planting. If you want to change it at a later date you must pay to have the old tree removed and new tree planted.
These may each be harvested once every 7 days from previous harvest, and they start out with no apricorn.
Honey Tree
In your berry orchard there will be a tree, upon which honey can be slathered in order to attract rare Pokémon.
There are a few ways to obtain a jar of honey but it is a rare item.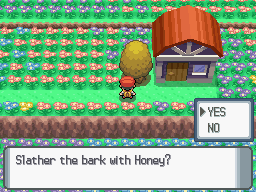 Every Estate will have a personalized encounter set generated by a mod that is themed around the setting of your orchard. You can have your berry orchard in a typical field, on a mountain side, deep in a forest, underwater, in a cavern, you name it! The mod will RNG your encounter set to their best judgement of what pokémon fit your theme.
Mansion Orchard Example Set
Common

Kricketot

Common

Fletchling



Uncommon (1/4)

Smeargle

Uncommon (1/4)

Slakoth



Rare (1/6)

Yanma