Post by Rane on Jun 20, 2012 7:13:06 GMT 11
Name:
Rane Lyre
Age:
15 years old
Gender:
Female
Trainer Type:
Average Trainer
Hometown:
Blackthorn City
Appearance:
At 5' 4", she is quite average for her age with somewhat tan skin. She has dark blue, almost black hair that goes up to her shoulder with bangs that sweep towards her left side. Her hair isn't perfectly straight but somewhat wavy. Her eyes are raven black but always has a glint of light in them. She has a visible scar across the right side of her neck, a single slash running along the curve at the base of her neck.
Her outfit is quite simple,consisting of a white blouse with a black hoodie jacket. She wears dark blue jeans and walking boots. She has a Pokewatch on one wrist while the other is a black band with a small chain hanging from it, dangling a "R" pendent.
Personality:
A fiercely independent girl, she can be quite ambitious and stubborn. Depending on who she meets first, she can be polite and friendly to those who treat her the same. For those who are overconfident or aggressive, she puts on a sarcastic and confrontational demeanor. She loves to battle and is always willing to show off her Pokemon's strengths. Surprisingly, she isn't a sore loser but takes every defeat as an oppurtunity to train harder. Rane also has a somewhat carefree and adventurous personality. Quite intellegent, she is a great strategizer though her impatient nature can cause her to be impulsive.
Once you're able to get past her smart-aleck, stubborn attitude, you can find she is actually quite sensitive to other's feelings. She can be kindhearted and sympathetic, though she tries not to show this side of her to strangers. Rane hates crying or relying on others, seeing this as a sign of weakness.
History:
Living in Blackthorn City, she was surrounded by many dragon-specialized trainers. As much as she is in awe by them, she also feared many of the overconfident ones. When she was little, she tended to be a crybaby and was very timid. This caused her to be often bullied by those who were extremely aggressive. One day, Rane had accidentally stumbled into the midst of a battle between two trainers. One of them was a traveler while the other was known as the most aggressive and ambitious one in town, who was always picking a fight. His name was Thallius. He often thought of Rane as weak and sometimes called her names but Rane was able to tolerate them. However, when she accidentally stumbled into the midst of the battle, Thallius's Bagon tripped over her and missed its move, causing the Traveler's Vaporeon to be able to hit the Bagon hard with a final Ice Beam, causing Thallius to lose his first match. As much as Rane tried to apologize, Thallius was in rage. Out for vengeance for one measly match, he hunted down Rane the next day and set his Bagon upon her. The Bagon had attacked her with a nearly deadly blow. Luckily, the Traveler was still in town and saved Rane from being killed, though she didn't get away unscratched. The scar on her neck resulted from the incident. She often still has nightmares about the incident. Since then, Rane was hardened by the experience and never cried again, never showed any weakness. She took on the personality of someone confident and scarcastic. She would be strong and never show any vulnerability ever again.
Goals:
She hopes to be one of the best trainers and hopefully become a Gym leader. She also wants to challenge Thallius one day, for revenge on all the torment he has done to her. She also wants to prove to him that brute strength and aggression will not be tolerated.
Other Info:
Wishlist: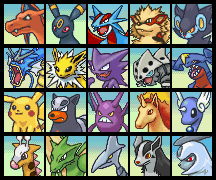 ~made by Hunter
How did you find us?:
Google
Application completed:
[YES]