Post by Morrigan on May 25, 2016 18:36:36 GMT 11
Case File: Digging Deeper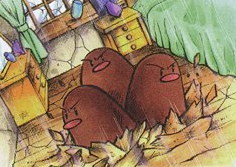 Requirements:
At least ranked Auxiliary or Constable


If the Cherrygrove Quest Dig In has already been completed as a trainer, you can not take part again with the same character.
All participating Pokemon must be Level 28 or less.
Location:
Cherrygrove City Streets.
Background:
Cherrygrove City; a quaint town well known for it's flowery aroma and gentle sea breeze. Once leaving the dirt path of Route 29 behind them, this little city tends to be the resting point for most travellers who have left Newbark Town. Though there isn't much to see, besides a decently stocked PokeMart and generously sized sandy beach, Cherrygrove is still a nice pit stop for most, even if it is to simply have a bit of rest and relaxation. Atleast, that is what one particular couple was hoping for.
Having moved to Cherrygrove City all the way from Cerulean City, within the neighbouring Kanto Region, a hardworking man and his wife hoped this relocation would lift a worrying weight off of their shoulders. Well known in Kanto for the discovery of TM28 Dig, both he and his family became the victim of numerous burglaries due to the effectiveness of the move. Not only did it work well in battle but it also allowed trainers in places such as caves, to dig their way back out to safety. Thus, it's value attracted the attention of Team Rocket, who had plans to use and abuse the convenient TM.
Quest Walkthrough:
Aware of the previous plight the Dig family has suffered, as a member of the IPF, it is your duty to ensure the safety of citizens. According to the rota pinned up in the office, it is your turn to do a night shift of patrolling within the streets of Cherrygrove. Known to be a quiet city, there usually isn't many reports filed in comparison to a place such as Goldenrod. But tonight, something is amiss. Several office phones are going off all at once to report a rampaging Pokemon in the area, which is devastating the streets. It is up to you to get to the bottom of this.
As you begin your shift, it is clear something odd is afoot. The once neatly lined cobbled streets have been uplifted, as if something had burrowed a tunnel underneath it. Following the path of thrown bricks and dirt, eventually, the Officer will come across the cause. An enraged Dugtrio seems to be trying to break into a house. To bring peace back to Cherrygrove City, defeat it!
Dugtrio♂: Lvl 20
Ability: Arena Trap
Tri Attack
Growl
Astonish
Dig

When the Dugtrio has been defeated, it becomes clear that things weren't at all what they seemed. Even after the battle has ended, the Dugtrio will continue trying to burrow it's way through the house but it seemed the flooring inside is just too thick for the Dugtrio to dig through, making it return back to it's original hole in front of the door. It's a long shot but perhaps the Pokemon is trying to tell you something? Maybe you can get the answers from the home owners.
As you knock and use your position as Police Officer to enter the home, you come across a much bigger problem. The house has been completely wrecked and standing inside are two trainers. Both notice your presence and begin explaining that they are innocent, whilst blaming the other for the destruction. As an officer of the law, it is up to your people skills to try and determine which one in telling the truth.
If you arrest the wrong person, then the true culprit will flee with pockets full of TMs, and you will fail your mission. However, if your detective skills prove effective, then the culprit will reveal themselves to be a member of Team Rocket! Put a stop to their evil plans, slap a pair of hand cuffs on them and make sure they sleep in a prison cell tonight!















Rocket Grunt Kyle
Reward: £500
Diglett♂: Lvl 12
Ability: Arena Trap
Scratch
Astonish
Mud-Slap
Dig

Meowth♀: Lvl 9
Ability: Technician
Scratch
Growl
Bite
Fake Out
With the member of Team Rocket taken care of, call in some backup or proceed to explore the house alone. Eventually, you willcome across the home owners tied up. Free them and you will receive a reward. You will learn that the crate of TMs were intended to be gifted to the IPF in the first place, as a thank you for keeping the city safe!
---
Rewards:
-
TM28 Dig
- £1500
- +10 Merit for completion
(Bonus)
- +5 Merit if the right person is selected
*Remember, officers are always eligible for bonus merit if they represent their division well