Post by Marchbaby on Jul 13, 2018 9:07:05 GMT 11
Surskit might of had a type advantage over Iki that it hoped to take advantage of but as Ashton switched Pokemon that plan went up in smoke leaving Surskit to think of another plan quickly.The small bug Pokemon was not very fast nor very powerful but it still had a few things it could try as Thistle replaced Iki as its opponent. Surskit was not sure if it could outrun the cat Pokemon under most circumstances but thanks to its Quick Attack it did not have to as its natural speed was greatly boosted by the attack. It slammed into the cat Pokemon at a high speed but quickly regretted its choice as she recovered and her eyes started to glow purple.
A few seconds later Surskit was floating in the air unable to move any part of its body as Thistle's Psychic had complete control of its body. As Thistle was not very pleased with the bug she thought flinging the bug sky high and letting it fall to the ground unable to brace for impact would be a nice little way to teach it a lesson. Surskit was lifted up high into the air until Thistle ran out of energy before plummeting into the ground causing massive damage. In desperation Surskit worked up the strength to try one final Quick Attack but Thistle laughed off the second impact ready to deliver the final blow as this Surskit still had not learned its lesson yet.
Her eyes turned purple again as Surskit was put into the same precarious situation it was in during the last attack but in far worse physical shape than it was in the first time and as Thistle released her psychic grip on the bug it fell onto the ground again this time knocked out by the attack. Luckily for Surskit a group of its friends managed to show up and carry it off before Ashton could capture it but this battle would haunt its memories for some time to come.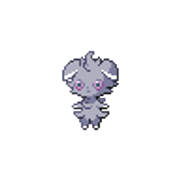 Thistle gains 2 levels and +1 happiness for her victory. She is now level 16 with +4 happiness.