Post by Phoenixchild on Apr 13, 2010 14:55:01 GMT 11
Warning.
The following guide may be offensive to, whiny people, stupid people, people who have no humor and of course ducks. Espically ducks.
Okay first off lets get you registered. Now this is a daunting task indeed, and alot of members miss this step entirely so for the convience of all I have taken the liberty of pointing out how to begin registering a new account.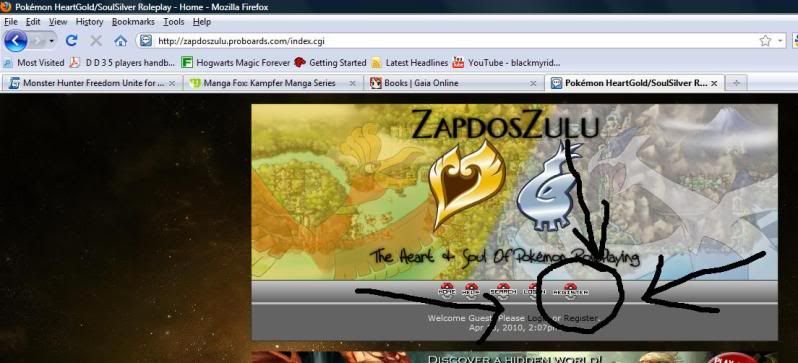 Yea I know it's crazy hard to find and it took me a few tries to find it my self
being logged in for the first three searchs certainly didn't help
however! in the end I found out!.
I won't walk you through the registration process right now but it is pretty darn simple
some members claim to be attacked by ducks
Okay now that you are registered lets get your character made!

Alright first you click the character creation board, pretty simple yea? alright good.
Now once you are in this section you should see accepted / accepted Cannon characters. Ignore that for now and look down below the annoucments you should see the following pinned topics.

Okay click the character profile, see that? COPY the template and click the NEW thread button.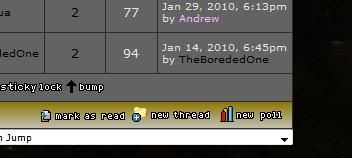 Yea another hard to find button I know, it's pretty simple really now remember that template I told you to copy ? PASTE it Right click then hit paste (in the white section where you write text, yea I know real goddamn rocket science)
Okay now, you fill out the template. One hundred words for appearance, two hundred for personality and two hundred for history.
Whats that? you can't meet those prequisits?
stop being such a goddamn pussy and learn to write at a sixth grade level
Look at some other profiles and get some ideas and inspiration, then take another shot at it.
---------------------------------------------------------------------------------------
OKAY now this could take a while, to be accepted I mean, feel free to ask around the chat box. DO NOT spam it up, YOU WILL get taken care of when a moderator has time.
Okay once you are accepted here we go, back to the main board look for character creation and pick "My first pokemon"
next you pick one of the three starters that you wish to start with. NO you cannot start off with Jhoto!
I don't know why, so stop goddamn asking me
Kanto starters are better anyway. Suck it up and take the supirior first gen.
The passwords? learn to count.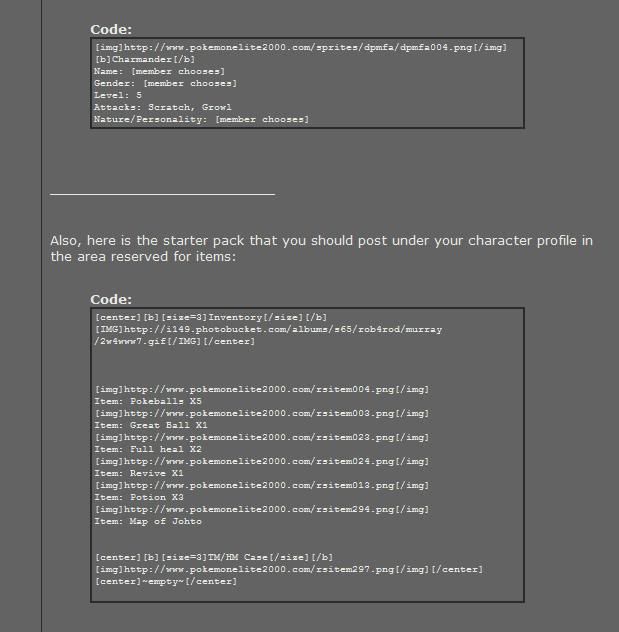 Okay now this is important. The first template for your pokemon, it's located on the first page of the claim your (insert pokemons name) all the pokemon template are the same, so just fill it out and post that in the thread, a mod will update your pokemon party soon after if they are not busy.
The second bit is your item sheet, you may copy and paste this into your profile (Oh yes I forgot to mention put a link to your profile in your signature? why? because I asked you to!
anyway, paste the item sheet into your profile in a SEPERATE post from your character application, simple yes?
Once you have your pokemon party post done (a moderator does this) you may begin Role playing. Go to Newbark town and make a thread. It's pretty easy, post learn to write, I made a role playing guide which Im sure you can find pretty easily if you looked.
ANYWAY .. post in your thread, easy enough here are some do and do nots
Do, put in detail ,try your best, its pretty simple the do nots are what is important.
Do not:
Try to tell a moderator what wild pokemon you are facing, seeing wild pokemon in the enviorment is alright I guess but you can't choose what pokemon you face, this is all done by random.
Do not use * or "u" and other such Instant messaging role plays, this is a literate style role play.
DO NOT UNDER ANY REASON DO THIS
IF YOU DO I WILL FIND YOU AND HURT YOU.
Talking in the chat box will help you get a reply, but thats only if people LIKE you, get it? good.
-------------------------------------------------------------------------------------
Now once a wild pokemon appears you will have to battle it, try to make your posts intersting and divserse. YOU CANNOT ORDER YOUR POKEMON TO DODGE, you can encourage them and what not , but you cannot auto dodge thats a big no no.
If a wild pokemon faint's you may capture it anyway UNTIL YOU GET THE FIRST BADGE.
Another interesting feature is that you may use items and STILL attack, this is because you heal after battle anyway and the battles are amped up and longer then actual pokemon in game battles.
from here on everything is straight forward. Enjoy the site.
DON'T LET THOSE GODDAMN DUCKS GET YOU
----------------------------------------------------------------------------
not much of a guide, but it will help get people started so they can be referred here instead of spamming up the chat box.