Post by Professor Oak on Nov 21, 2010 16:19:37 GMT 11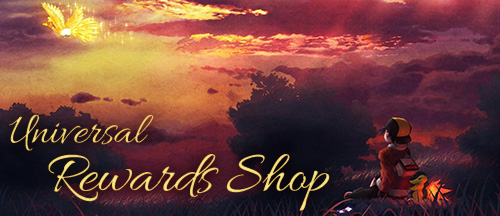 Introduction
---
The Universal Rewards Shop delivers a new system of rewards to all members: Reward Tokens (RT)
These tokens may be awarded for participating in various activities throughout the forum, such as: the
Casino Fountain
, of which can be played once a week;
Buena's Password
, an OOC Radio Tower game in Goldenrod;
Gogoat Racing
, held on occasion depending on member involvement; or trying your luck at the
Lottery
. Many more seasonal and monthly festivities give ample opportunity for active members to receive RT as a gift, but there are also methods to obtain them via exchange.
Recruiting
1 Recruit = 1 RT

For each member that you recruit, you will receive one RT and your name shall rise among the ranks of those honoured in our Hall of Fame. In addition to this there are recruiting milestones, of which are listed further down this page, that upon reaching the designated number of total recruits will earn you a unique prize. Remember, it is a way to attract new members and generate activity for the site but also earn yourself prizes. You will also receive 3 Mystery Gift Boxes for every recruit!

Moderation
10 Mod Points = 1 RT

Although RT cannot be earned directly through moderating, staff members are given the option to exchange their Mod Points for Reward Tokens. However, this exchange is only one way; you cannot exchange RT for Mod Points.


Game Coins
500 Game Coins = 1 RT

Coins gained from the Game Corner can be exchanged in return for RT. However, like Mod Points, this exchange is one way and cannot be used to turn RT into Coins.

Graphics
Occasionally ZapdosZulu will call on the talents of its members to create graphics for various purposes throughout the forum, whether they be sprites, ad material, images for info pages, or just for fun. Requests will be posted in the Art & Design Corner and the number of RT offered will vary.

Contests and Tournaments
[Coming Soon!]

Eventually, you will be able to earn Reward Tokens for each contest and tournament that you win.

---
F.A.Q.

◓ How can I keep track of my RT?
As soon as you earn your first Reward Token your account name will be added to the
list below
and Moderators will take care of keeping this count up-to-date.
◓ Are there any additional ways to earn RT?
Yes, there may be other ways to earn RT that have not been listed. Keep a look out for temporary promotions that may offer free or double RT.
◓ How will I know whether I've recruited someone?
If a Moderator comes across a recruit while accepting character profiles they will post here to allow the recruiter to receive their RT.
◓ How do I make purchases with my Reward Tokens?
All transactions are settled here. Just state what you'd like to buy in a reply to this thread.
◓ Will my RT ever expire?
No, but if the account list ever gets too crowded inactive accounts may have their RT balance recorded on their profile instead.
◓ Can I exchange RT for Pokédollars instead?
Not directly, but you are free to sell any items that you purchase in the Universal Reward Shop.
◓ Am I able to get any of these items/prizes elsewhere?
Some may be exclusive to the shop and others may be acquired during the roleplay or obtainable through other methods. The shop is useful if you'd like to obtain once-use items again such as King's Rock.