Post by Ambrosian Wolf on Dec 20, 2011 15:40:37 GMT 11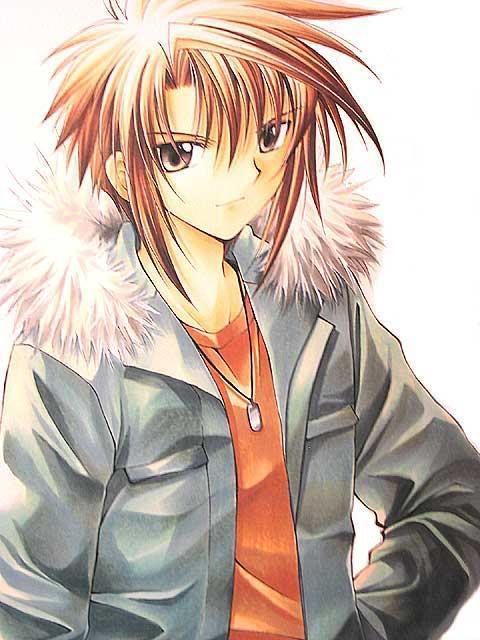 Name:
Charles "Charlie" Nightingale
Age:
17
Gender:
Male
Trainer Type:
Trainer
Hometown:
Blackthorn, Johto Region
Appearance:
Charlie gets most of his Features from his Biological parents, so he doesn't resemble either of his adopt parents in any way. Firstly his hair is short and Slick that carries a Bright auburn color. When in the right light, each natural highlight Shines brightly; almost sparkling. His eyebrows are fine and match his hair color. He has pale skin that has a golden tan. Charlie's eyes are a gentle hazel color that is often changing depending on his mood.
Over his broad shoulders he wears a Black Cashmere jacket. The jacket has a zipper down the middle that is usually undone. There are pockets on either side of the Zipper. Charlie Keeps his traveling things in these pouches. The hood is made of big, plump white Fur and is as soft as Chinchilla fur. However it's Faux Fur, he's against real fur. Under his jacket is a basic Orange shirt without any graphics on it. A dog tag hangs around his neck that read "charles": The only thing his biological parents left him.
Finally he wears blue jeans that are slimming, Showing his long slender legs. They are suspended by a black leather bound belt with a large silver bucket. To complement his look, he also wears black runners.
Personality:
Main
At first glance anyone would notice that Charlie doesn't talk much. It could also reflect the nature of his true history. Despite his era of quietness, Charlie is Stubborn and Sometimes pigheaded. He doesn't take to order easily and is Quick to rebel against those who want to Control him, Even against his own parents. He's stuck up and sometimes acts like he is royalty. As you search deep within Charlie's heart you'll find his softer side. As he was introduced to Pokémon early, causing him to have a soft spot for Pokémon. He has a passionate towards Pokémon and Pokémon Battles. He some times gets carried away and it usually gets the best of him.
Likes
Charlie loved pokemon, There's no question about it. He's always loved pokemon, even as a very young child. However a Pokémon is the reason for what he fears the most, Water. Despite that, he still has a Super soft spot for pokemon, Never giving up on them or Abandoning a Pokémon in need. Beside pokemon, He loves to read. He's a total book worm, always carrying a book where he goes.
Dislikes
He really doesn't like Flying. He prefers to drive in a vehicle or other means of Transportation. He doesn't like the feeling of being 30 thousand feet in the air, it makes him sick to his stomach. He also doesn't like to swim, but that's Due to more of his fears.
Fears
His biggest fear is water. Before he was adopted or even abandoned by his previous parents, a Octillary had grabbed him. It dragged him down into the water when he was three years old. His biological father had saved him, however he is now terrified of the water. It is because young Charlie did not see the pokemon; he isn't afraid of him. His second and most important fear if the feeling of being alone. When his biological parents left him. charlie was left with a great fear of being alone. This is why his adopted parents introduced him to Pokémon early, So he would never have to feel alone ever again.
History:
Not much is known about Charlie's past in his first 4 years. Charlie was left at an Orphanage at the age of four. He was left with nothing but his first name, not even his birthday was known. So when other children celebrated their birthdays he would just sit in the corner and try to remember the faces of his biological parent. However that was in vain. He spent almost a year watching as new friends would be adopted and go to live with their new parents, Before his time came. He was adopted by a couple from Blackthorn city in the Johto region. They are Robert and Jennifer Nightingale.
The day she was adopted was made Charlie's Birthday. Everything from that poiint on fell into it's place. His new parents were Pokémon teachers in blackhorn city, teaching Young kid all about Pokémon and how to take care of them. So a few short months after his adoption, his new parents began to teach him how to Take care of a Pokémon properly. Once he was nine years old, he received his first pokemon, a male Shiny Cyndaquil. Due to this he had a late start on his own Journey.
The next few years he spent raising the fire mouse Pokémon. Keeping him happy. He came to call this Cyndaquil Quinn. The two of them Spent the next year and a half bonding. Quinn Eventually Evolved into a Quilava. At last the time came for him to leave for his own journey.Due to the fact that Quinn was a Pokémon from the trainers school, Charlie was Forced to leave him behind as he left him.
Goals:
Charlie wants to Become a pokemon master and Following in his adoptive parent's Footsteps. He Hopes to One day take over for his parents in the trainer's School. However to Do so, He must travel and take on various pokemon Leagues before he's even ready.
Little to be known Charlie has a Small desire to find his Biological Parents. He wants to Find the reason behind why he was abandoned and the truth behind it.
Other Info:
None that is listed Above
How did you find us?:
Google First XD
Application completed:
[Yes]