Post by Professor Oak on May 23, 2015 17:54:52 GMT 11
Group Quest: Water Conservation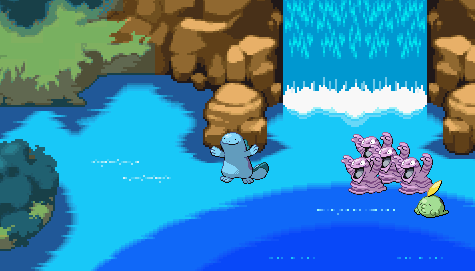 The ever-expanding urban fringe of Violet City has grown dramatically over the past few years such that Cherrygrove City's entire ecosystem is now under threat. What was once a pristine waterfall where countless Quagsire gathered for their annual celebration, the famous Blue Moon Falls has started to become choked with rubbish and waste sent downstream by Violet City's factories.

Recently a spate of illnesses has plagued Cherrygrove where locals have complained about a slimy consistency to their drinking water. The city is desperate for a band of brave adventurers to investigate the cause of this contamination!

Requirements

Please note: You must complete this quest with one other member. Select one Pokémon from each of your Party to participate that is LV 12 or Lower*; it is recommended to use pokémon at least LV 9.

You may complete this quest as many times as you like as long as it's with a different partner. To find a partner, please post in the Group Roleplay board.

*As with all level capped challenges, higher level pokemon can be used in the trial with the risk of disobedience.



Walkthrough

Explore Cherrygrove City with your partner to hunt down clues. The following are locations in the city that can be interacted with to create positive and negative impacts on the environment. There are also NPCs that can be talked to who may give you hints and help you with the final battle. You do not need to visit all of the locations or speak to all NPCs.

1. Apple Tree

Perched atop a cliff ledge overlooking Blue Moon Falls is a lone apple tree. By shaking its branches, trainers have been able to score a quick nutritious snack before continuing their journey along Route 30.

2. Guide Gent

Guide Gent is a friendly old man who can be found at his house in the heart of the city. He will invite you in for tea and some scones and offer some advice about the problems that ail the city.

3. Lady and Child

A lady with a naughty young child can be found wandering near a riverbank. The child is complaining of thirst and the lady is prepared to pay 300 for anybody to buy a drink for him from the nearest Pokémart.

4. Chemical Plant

Further along Route 30 is a chemical plant, pumping out toxins into the waterways. Perhaps you can turn off the valves to prevent any more environmental destruction.

Final Battle
Make your way to Blue Moon Falls and you will be confronted with distressing scene. A majestic Quagsire is being attacked by a horde of Grimer and it looks like it requires your urgent assistance. You must fend off 2 waves of attackers and prevent the Salamander Pokémon from fainting.




Quagsire (74/74)
Status: Poisoned






Grimer lvl 8
(33/33)

Grimer lvl 8
(33/33)





Rewards
Upon successfully defending the Quagsire, the rewards for each participant vary slightly depending on the choices you have made during the quest. However, they usually include the following:

1. Opportunity to capture one of the Poison Pokémon
2. TM87 Swagger x 1
3. One random round item reward for each participant.
4. Both participating Pokémon will gain 3 levels.