Post by 「JoJo」 on May 23, 2016 6:48:25 GMT 11
DYING WISH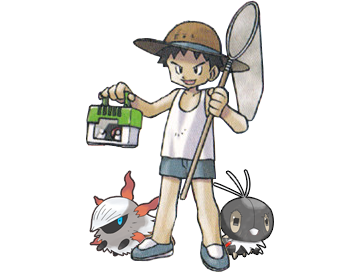 Requirements:
None

Location:
Route 29

Description:

On the outskirts of New Bark Town at the start of Route 29 is a particularly sickly looking boy dressed up in full bug catcher gear. He appears to accompanied by two very unusual looking Bug type Pokemon not seen around these parts. Although ill looking, this doesn't bother the young soul who smiles and greets all trainers he comes across.

Upon further investigation with the bug catcher, he reveals his tragic circumstances and a startling request.






"Hi there, nice to meet ya, i'm Kent. *cough* You can probably tell from my get up but I love Bug types. *cough cough* Oh? What's that? I look ill? Ah... I'm fine. *cough* My parents told me i'm suffering from this condition... It doesn't matter, don't mind me. What was I saying?

Oh! Right. I love Bug Pokemon. There's one Pokemon in particular I really love though... Vivillon. A pen pal from abroad sent me a Scatterbug which can evolve into it. But what's REALLY special about Vivillon is it evolves into so many different patterns. *cough cough cough wheeze* I wish I could see them all. My dream is to see each and every one and watch them fly off together into the horizon. *cough cough* That would be my one true wish. I just can't travel around you see...

Hey, I got an idea. You look capable. What if I gave you my Scatterbug and you go see if you can bring back every Vivillon variation there is? Could ya? PLEASE? In return, I got a lot of stuff I, er, won't really be needing... Here!"


Returning one of the two Pokemon he had beside him, he extends out a frail arm and presents you a free Pokemon! Please copy the below and create a thread in the quest subboard with Dying Wish in the title to begin the quest.



Scatterbug

| Lv. 5

Tackle

Stringshot


[img]http://s15.postimg.cc/ie54ymtyv/i_kofukimushi.gif[/img]
[b]Scatterbug[/b]
Name: [choose]
Gender: [choose]
Level: 5
OT: Kent (NPC)
Attacks: Tackle, String Shot
Ability: Shield Dust OR Compoundeyes
Nature/Personality: [choose]

Walkthrough:
In order to successfully complete this quest you will need to travel across the land, searching far and wide. By evolving the Scatterbug line in specific locations will you be able to obtain the different Vivillon patterns in order to fulfill Kent's wish.
There are 20 patterns in total which you will need to have obtained and given to Kent. Be sure to keep in mind the below if you undertake the quest:
To start this quest off, simply create a new topic in this sub board with the suffix (Dying Wish).


Buy a nursery to breed more Scatterbug to evolve.


Be sure to study the Evo guide on Vivillon evolution to know where to evolve your Spewpa.


If you own multiple characters, they can each participate in this quest.


Each Vivillon obtained will be traded to Kent in exchange for the rewards listed below. You will not be able to retrieve these Vivillon so be sure you have no attachment to them! Post in the quest topic you've created for progression.
Rewards:
Kent is an incredibly generous soul. As he wants to see nothing more than all the different Vivillon patterns, he will reward good Samaritans with various gifts as a thank you in helping him.
For every Pattern shown to Kent you will receive x1 RT
and...
| | | |
| --- | --- | --- |
| | £1,000 | 1 Pattern |
| | Sitrus Berry | 2 Patterns |
| | Bug Gem | 3 Patterns |
| | Tanga Berry | 4 Patterns |
| | Net Ball | 5 Patterns |
| | TM118 Infestation | 6 Patterns |
| | Bug Gem | 7 Patterns |
| | x2 Repeat Ball | 8 Patterns |
| | Honey | 9 Patterns |
| | Silverpowder | 10 Patterns |
| | Bug Gem | 11 Patterns |
| | TM110 Struggle Bug | 12 Patterns |
| | x2 Tanga Berry | 13 Patterns |
| | x2 Net Ball | 14 Patterns |
| | x2 Shed Shell | 15 Patterns |
| | TM62 Silver Wind | 16 Patterns |
| | x3 Bug Gem | 17 Patterns |
| | Honey | 18 Patterns |
| | TM81 X-Scissor | 19 Patterns |
| | Larvesta | All 20 Patterns |

Larvesta
| LV 55
Morning Sun
Flame Charge
Bug Bite
Double Edge
[img src="http://www.serebii.net/blackwhite/pokemon/636.png"]
[b]Larvesta[/b]
Name: [choose]
Gender: [choose]
Level: 55
OT:
Moves: Morning Sun, Flame Charge, Bug Bite, Double Edge
Ability: Flame Body
Nature/Personality: [choose]
Exp: 0/9241
---
*
PLEASE NOTE:
Unlike other quests where you are locked in until completion, this quest is one you can have open as long as necessary and allowed alongside other quests.