Dig In!
May 25, 2016 18:16:34 GMT 11
Post by Morrigan on May 25, 2016 18:16:34 GMT 11
Dig In!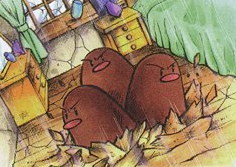 Requirements:
Reached Cherrygrove City.
Location:
During the evening in Cherrygrove City Streets.
Background:
Cherrygrove City; a quaint town well known for it's flowery aroma and gentle sea breeze. Once leaving the dirt path of Route 29 behind them, this little city tends to be the resting point for most travellers who have left Newbark Town. Though there isn't much to see, besides a decently stocked PokeMart and generously sized sandy beach, Cherrygrove is still a nice pit stop for most, even if it is to simply have a bit of rest and relaxation. Atleast, that is what one particular couple was hoping for.
Having moved to Cherrygrove City all the way from Cerulean City, within the neighbouring Kanto Region, a hardworking man and his wife hoped this relocation would lift a worrying weight off of their shoulders. Well known in Kanto for the discovery of TM28 Dig, both he and his family became the victim of numerous burglaries due to the effectiveness of the move. Not only did it work well in battle but it also allowed trainers in places such as caves, to dig their way back out to safety. Thus, it's value attracted the attention of Team Rocket, who had plans to use and abuse the convenient TM.
In hopes that moving away would sort out their problems, unfortunately, the family were tracked down by the nefarious group once again. With plans to strike the quiet town and steal the stock of TM's within the families new home, would the robbers succeed or will the family be saved just in the nick of time?
Quest Walkthrough:
Passing through the streets of Cherrygrove City in the late evening, the walking trainer would notice something suspicious unfolding near a home close by. A slender figure wearing all black had quietly unlocked and pulled up the window frame before slinking their way inside the building. Had the trainer just witnessed a robber or someone who had simply been locked out of their own home? They had a few options to choose from if they chose to intervene. Either go and investigate themselves or find a Police Officer on evening patrol.
---
Option 1: Climb inside the window and follow the figure.

Following the figure by climbing inside after them would alert the trainer to just who the suspicious figure is, a Team Rocket Grunt! Not being subtle at all, he tears the home inside out, destroying everything in his path in order to find whatever it was that he was looking for. Immediately noticing that he has been followed, he confronts the trainer with two options. Either
help
him or
battle
him.
Option 1a:
Help
the Team Rocket Grunt.
Maybe the trainer in aspiring to become a member of Team Rocket, if that is the case, lend your future comrade a hand! The mission is to track down the hidden stock of TM Dig. Turn the place upside to find it!
Be careful though, if you had noticed the Rocket enter, someone might have seen you enter shortly after. If you are not quick, trouble could be on your tail. Grab the crate and get outta there to finish the mission!
Option 1b:
Battle
the Team Rocket Grunt.
The Team Rocket Grunt is annoyed that his mission has been disrupted but always has the time to put nosey, goody two shoes trainers in their place. Prepare yourself for a fight!















Rocket Grunt Kyle
Reward: £500
Diglett♂: Lvl 12
Ability: Arena Trap
Scratch
Astonish
Mud-Slap
Dig

Meowth♀: Lvl 9
Ability: Technician
Scratch
Growl
Bite
Fake Out
Once the Rocket Grunt has been defeated, back up will arrive right on time! You were not the only one to see the shady figure enter the building, as the Police were alerted and have now arrived in the nick of time. Arresting the Team Rocket Grunt, they reward you for your bravery. A job well done!
---
Option 2: Find a Police Officer on patrol.

The situation is far too suspicious for the trainer to handle alone, thus, they go off in search of a Police Officer. After thinking of a number of locations to try, the trainer will eventually come across a Police Officer. Convince them to follow you to the scene of the crime and catch the robber in the act!
Upon your arrival, both the trainer and Officer notices the shadowy figure leaving the house, with a crate in hand. It is a member of Team Rocket and they need to be stopped before they get away! Whilst the Police Officer calls for back up, it is up to you to battle the thief.















Rocket Grunt Kyle
Reward: £500
Diglett♂: Lvl 12
Ability: Arena Trap
Scratch
Astonish
Mud-Slap
Dig

Meowth♀: Lvl 9
Ability: Technician
Scratch
Growl
Bite
Fake Out
Once the Rocket is defeated, the Police Officer arrests them and back up arrives. Upon further search within the house, the owners are found tied up upstairs but are freed thanks to your help. Although their house is a mess yet again, they are grateful for your bravery and give you one of their TM's as a reward. The police are also impressed by your quick thinking and hope that you will consider joining their ranks one day.
---
Rewards:
-
TM28 Dig
- £1500
- A unique reward for helping either the Rocket Grunt or Police Officer.
Quest Complete!