Post by Andrew on Jun 30, 2018 22:23:26 GMT 11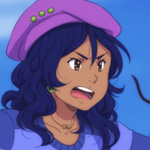 For modding, you can skip to the last two paragraphs if you want.

If you see me comin' down the street...
... You know it's time to go.
Azalea was small but had a lot of personality. Terri examined the signpost, welcoming visitors to the town. The Slowpoke Well, the Poké Ball craftsman and the Charcoal Kiln were some key places that sparked interest. However, before she considered any of these, she was determined to obtain her Hive Badge from the gym.

For a trainer battling to win her second badge, Terri had a modest team; owning just three Pokémon. But this wouldn't be enough to cause her to doubt herself now that she'd gained some confidence in her Staravia. Obviously, Bugsy would be more skilled than the average trainer but there was no way his bug-types could stand up to her.

She marched towards the most extravagant building, assuming it could only be the gym. Ollin was by her side, having remained outside of his Poké Ball since Union Cave. There seemed to be at least one Slowpoke roaming around every street. It was odd to see so many wild Pokémon freely integrating with the citizens.

A shady figure was hovering around the gym. As Terri got closer, she noticed he was trying to subtly get her attention.
"Psst. So, you're the new recruit? The boss says to report to the Slowpoke Well as soon as you're done here. We got a new mission."
"Slowpoke Well, got it. What's the mission?" she whispered, trying to hide herself in the shadows. It sounded exciting but the description was so vague that she couldn't be sure what to expect.
"No time to chat, just report to the well and you'll find out. Make sure you know how to Cut."

Team Rocket seemed to have this mission well-planned but Terri wasn't exactly thrilled at how little information she'd been given. Still, she didn't want to blow her cover so she nodded and approached the entrance of the gym. It was likely that she'd need to prove herself before getting any secret information while she was still a new recruit to the team.

The style of the gym was very different that of Violet City. A lot of work had gone into it but the design could really only appeal to someone who loved bug-type Pokémon. Terri briefly examined the arena to confirm that there were no tricks. Besides the tacky decorations, it didn't look like there was anything to worry about.
"My name's Terri. I'm here to challenge yer gym." She placed her hands on her hips as she spoke out.

"Ya'll probably sit this one out, kiddo," she whispered to Ollin as she awaited a response. The Snubbull grunted contently. He was happy to cheer from the sidelines. After all, he'd won the Zephyr Badge for Terri. It was time to let someone else pull their weight.